CAROL VOGT LAVINE, LLC


Property Tax
Individual and Business Income Tax


10824 Oak Street, #155
Milwaukie, OR 97222


Phone:
(503) 650-5361
Mobile:
(503) 781-6483
Fax:
(503) 650-6511



Email Us
Carol Vogt Lavine, Attorney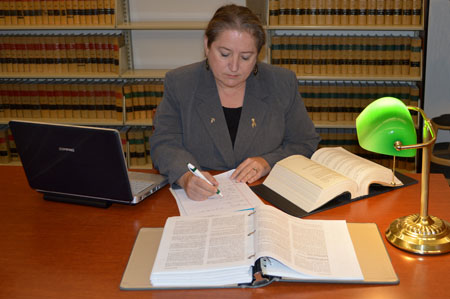 Carol grew up in the Willamette Valley. She graduated from Linfield College with a BA in accounting and a dual major in psychology and earned her JD from Lewis and Clark Law School. Drawing on her experience as a hearings officer at the Oregon Department of Revenue, she practiced at the Portland office of Davis Wright Tremaine, LLP for 12 years, where she focused on state and local taxation and federal income and excise taxation. Carol founded her own firm in 2002.
Carol routinely handles audits, administrative appeals and collection matters for individuals, corporations and multinational corporations on state, local and federal tax matters. She also represents individuals and corporations in the Oregon Tax Court and the Oregon Supreme Court on income tax, corporate excise tax and property tax matters and serves as local counsel for non-Oregon based companies doing business in Oregon that have Oregon tax disputes.
When a client was faced with disqualification from farmland special assessment due to an extraordinary situation, Carol fought for relief during the 2009 Oregon Legislative Session. She succeeded in bringing about an amendment to the farm use special assessment statutes that allowed a fourth generation family of farmers to continue operating their family business.
For nearly 30 years, Carol has been an advocate for those suffering from mental illness and their families. There are over 22,000 people in Clackamas County alone that are living with a mental health condition. Carol helps individuals and families find resources for sorely needed assistance on a pro bono basis. She formerly served as Treasurer on the Board of Directors of the National Alliance on Mental Illness of Clackamas County and continues to volunteer for NAMI-CC.
Because Carol believes that the right to vote is one of the most important, fundamental rights that all eligible Americans possess, she has been a volunteer Election Observer Team Member for Clackamas County since 2004.
Carol is a strong believer in family and community. She volunteers in the Gladstone public schools; has been involved in youth sports, as coach and as a board member; and provides pro bono legal assistance when the need arises. Carol has two children and has been married 30+ years to her husband.
10824 Oak Street, #155
Milwaukie, OR 97222
Phone:
(503) 650-5361
Mobile:
(503) 781-6483
Fax:
(503) 650-6511



Email Us